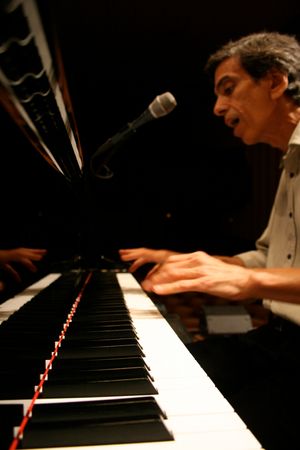 Discography
 Luiz Simas participated as a sideman and studio musician in hundreds of recordings with other artists in Brazil and abroad. He recorded the following CDs in the USA as the main artist: 
"DEUCE" - Recently released by the Simas & Amorim duo (with Luiz Simas on piano and Wesley Amorim on guitar), this CD comes with a repertoire of original songs and compositions by Egberto Gismonti, Radamés Gnatalli, Lennon & McCartney and Agustín Barrios.

"TRANSPARÊNCIAS" - Simas' most recent solo piano CD. It was was chosen as the year's best Jazz CD at the solopiano.com website. 

"MATA ATLÂNTICA (ATLANTIC FOREST) PIANO SUITE " - A solo piano suite in three movements composed by Luiz Simas in a Brazilian classic style with Impressionist touches. It was inspired by the endangered Brazilian Atlantic Forest. 

"CAFUNE' " - Released both in the US and in Brazil, this CD comes with 13 original tracks and lyrics in Portuguese. Luiz sang lead vocals, played piano, composed all the songs and wrote all the arrangements and lyrics (with the exception of "Apareci por Aqui", which has lyrics written in partnership with Silvio Ferleite). This CD features many great Brazilian and American musicians and includes vocal and instrumental tracks in several Brazilian styles. According to Simas himself, this is the CD which best represents his work as a composer, singer, pianist and arranger. 

"NEW CHORINHOS FROM BRAZIL" - A solo piano CD with 10 original choros, it received great reviews on Keyboard Magazine and in several music websites. Some of Simas' chorinhos are more traditional, while others are quite modern and bold. 

"RECIPE FOR RHYTHM" - A CD with Simas' original compositions written in partnership with lyricist Ellen Schwartz. Luiz sings lead vocals and plays piano and keyboards, together with a large ensemble of exceptional musicians such as Romero Lubambo, Sérgio Brandão, Ricky Sebastian and others. 

"IMPROMPTU" - A solo piano CD with original improvisations. 

"LUIZ SIMAS LIVE IN NEW YORK CITY" - Recorded live in the Consulate of Poland in New York with a line-up of piano, flute, bassoon and percussion, and featuring original tunes and songs by Jobim, Nazareth and Villa-Lobos. It is the same program which had been presented on the previous week at the Weill Recital Hall at Carnegie Hall.